The ReWilding Experience is for all women from all walks of life.
We create and facilitate events, camps and workshops where every aspect of you is welcomed.
You have the opportunity to immerse yourself in nature and connect with women in a safe and inspiring way.
Rediscover the sacredness of life through creativity, movement, play and ancient women's wisdom.
We offer diverse activities that range from gentle and nurturing to challenging wild and fun.
Journey through the many aspects of woman, and discover your own unique wisdom and power.
"To ReWild is to return to your natural state of being"
ReWild your inner Wise Woman
Explore the Cycles of Woman
MAIDEN : MOTHER : MAGA : CRONE
Connecting to the Earth, the Moon and the Seasons
Craft Making with Intention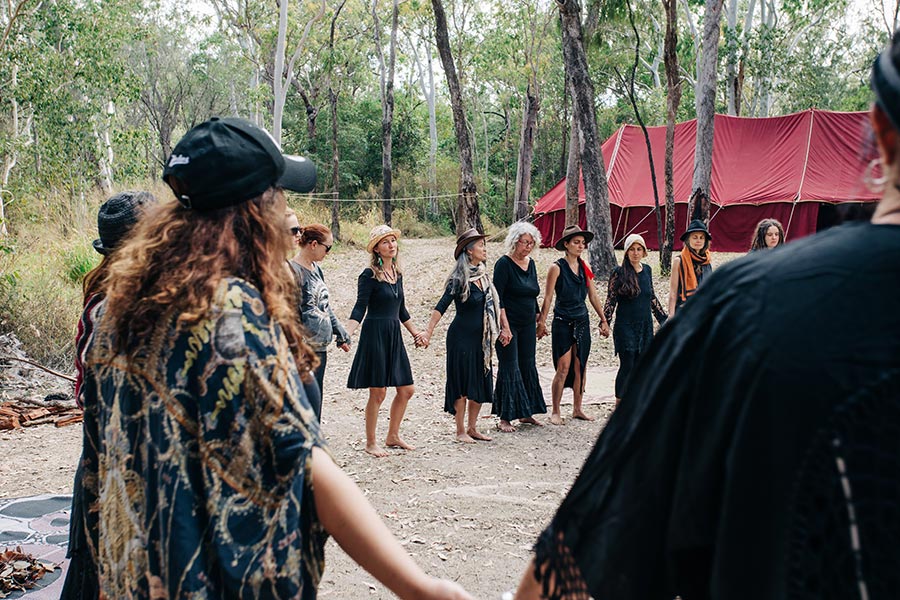 Jilli & Erin create a safe space for vulnerability, openness, oneness & overwhelming joy, going above and beyond any expectations. And the relationships made with all the wise women involved over the experience are as true as Mother Nature herself. I miss the feeling of being wrapped up and totally supported by you all.
As a psychotherapist I experienced and witnessed an extremely well supported environment when human vulnerability was present, allowed and respected. I highly recommend this camp to anyone.
Friendships, feminine energy, teachings, healing, Mother Earth, creativity, reawakening all come to mind when I think back on my experience with the 'Wild Woman's Bush Camp'. I enjoyed it so much that I look forward to attend another one x
Grounding, connecting, and life changing. Erin and Jillian will take you on a journey you will never forget!
Life changing, awakening , empowering , fun and full of love !!
The 'Wild Women's Bush Camp' totally opened my awareness to the depth of connection that is possible with other women. I have never experienced this before. It gave me the experience of what being with other women is meant to be like. It was so nourishing and healing for me on so many levels. I have found a space where all of me is seen, held and accepted. I received so much more from this experience than I could have ever imagined!
The ReWilding Experience was such a positive experience for me, on every level. I felt so supported, right from my very first contact with Erin and Jillian. Every day of the event unfolded perfectly, bringing together such a wonder-full time. I highly recommend the experience and will most definitely attend another one. Thank You.
This error message is only visible to WordPress admins
Error: The account for therewildingexperience needs to be reconnected.
Due to recent Instagram platform changes this Instagram account needs to be reconnected in order to continue updating. Reconnect on plugin Settings page
Contact Us
Erin Reece 0432 370 686
Jillian Zamora 0412 036 771
Please fill in the form below and we will get back to you.